Why everyone's racing to get on the Slopes
The Slopes is a peaceful, residential area that has slowly grown up around Wimbledon's Edge Hill.  It is named after the gradient that descends from Ridgway in Wimbledon Village to Worple Road (B235) in the south and is characterised by wide, leafy residential streets that include Denmark Avenue, Edge Hill, Ridgway Place, Spencer Hill, Thornton Hill and The Downs plus Arterberry, Crescent, Darlaston, Denmark, Malcolm, Murray, Raymond, St John's and Thornton roads.
The architectural styles you'll find on the Slopes reflect over one hundred years of development, so if you're renting here you'll find a wealth of property options, from substantial red-brick mansions tucked away from the public gaze to spacious modern apartments.   It's also convenient for travel and shopping, with national rail, tube, trams and buses only a short distance away in Wimbledon town.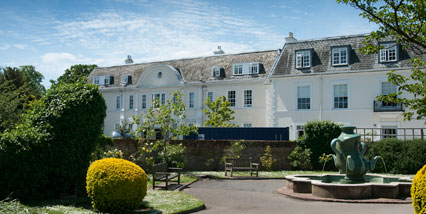 Shopping and entertainment
The northern section of the Slopes borders trendy Wimbledon Village with its great selection of independent shops, chic high street chain stores, delicatessens and restaurants.  Tennis fans will enjoy being close to the action here, particularly during the Championships in June, when the streets of Wimbledon Village are buzzing with tennis stars, celebrities and fans.
Nearby you will also find Cannizaro Park, with its beautiful gardens and woodlands, as well as the Royal Wimbledon Golf Club.
For convenience shopping most residents use the Sainsbury's supermarket on Worple Road but Wimbledon town, on the western side of the Slopes, offers a wide range of high street shops as well as good leisure facilities, including the New Wimbledon Theatre, the Nuffield Leisure Centre, the Polka Children's Theatre and a couple of cinemas.
Travel from the Slopes
It's a conveniently short commute into central London from Wimbledon town, with direct services to Waterloo (via South West Trains) and Blackfriars (via Thameslink).  The District Line tube runs north to Earls Court, connecting to west and central London stations.  Tramlink services also serve a route to Croydon and Beckenham Junction.  From Raynes Park rail station – just a little further to the west – you can also reach Victoria and Waterloo in less than twenty-five minutes. Bus services from Wimbledon town include 57, 93, 131, 156, 163, 164, 219, N87 and 200.
Wimbledon is located within a 30 mile radius of Heathrow and Gatwick airports.
Finding the right school
Wimbledon is known as a property hotspot for families looking to rent because of its excellent state and independent schools.
Highly rated state primary schools include Dundonald Primary, Bishop Gilpin Church of England Primary and St Mary's Catholic Primary School, all described as 'Outstanding' by Ofsted. Wimbledon Chase Primary School is another popular mixed state primary, with a catchment area that includes the Slopes.
Independent schools include Willington School (for boys 4-13), Edge Hill's Donhead Preparatory School (for boys 4-11), Ursuline Preparatory (for nursery age boys and girls 3-11) and Wimbledon High School (for girls 4-18).
One of the area's top schools is King's College School on Wimbledon Common: a fee-paying day school for boys aged 7-18 and senior girls. Putney High School and Wimbledon High School are also rated as excellent girls' schools, while Ricards Lodge High School and Wimbledon College are state secondary schools rated 'Good' by Ofsted.  Older children with special needs are served by the fee-paying Face Youth Therapeutic School, a mixed school also rated 'Good'.
In brief
Winchester White has some great properties available to rent on the Slopes. This tranquil, leafy enclave is just a short distance from two buzzing areas of Wimbledon with sports facilities, excellent shopping, parks and open spaces, good schools, theatres and cinemas.